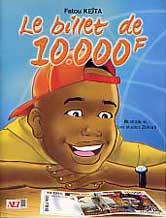 First reading camp starts on Monday, as do the discussion groups. Today we had the odd experience of going into one of Ouagadougou's four bookstores, Mercure (the others are Savanne, Diacfa, and Libraries de La Jeunesse). We looked around at the selection of children;s books- 4th grade level. Found some wonderful new books from Cote d'Ivoire,
a series by Fatou Keita
. Really nice "chapter books"- nice illustrations and prefectly adapted text.
"Oh, these are wonderful. Do you have more in stock?"
"We may have some more in stock."
"We'll take 25 copies of each." (There were seven books in the series.)
"Sorry, I just checked and we only had fifteen."
"We'll take them all. Can you get more?"
"Ca sera un peu dificil..."
So we bought the whole stock. Exhilating, and a bit depressing. But boy did it get the reading camp animators excited. Some very nice large format hardcover picture books too, for the reading aloud and shared reading sessions.